It's 2019 and you're probably thinking, "Everyone has a blog, how in the world are they doing this so fast? I want to start a blog too!"
Well, turns out making a blog isn't that complicated and it can all be done in under 20 minutes.
Chances are if you have enough time to read this then you sure as heck have enough time to start your money making blog.
10 years ago if you told me I could be a billionaire blogger I would have laughed at you. Because ten years ago, I thought BlogSpot and Onsugar (who knows if these platforms even exist anymore) was a good enough space to create a blog. My blog was one in which I considered a hobby and had no clue it could become a lucrative venture.
If I had the information I had now I would have made money from day one, as I outline in this post here.  
Don't be a fool sis!
Take advantage of this information on how to actually build your empire. So open up a new browser and just follow along with me.
I'll wait…
Ok, let's get started.
You'll Learn How To Start a Blog By Learning:
How to find your niche (your why)

How to start your website and theme on WordPress

How to solidify your brand

How to Monetize
How to Find Your Niche and Your Why
Your why is your reasoning and purpose behind putting time and energy into your blog. For me, my why in the beginning of blogging was to have an outlet to express my thoughts and opinions on movies. I typically wrote against the grain opinions on super popular movie flicks.
Yes, my first blogging experience was being a movie critique. But then my why over the years progressed and became deeper.
Later during my blogging journey, my why was to be seen as an authoritative figure in the field of natural hair. And even today some people deem me as a hair pioneer. My authority meant a lot to me and sharing my experience was a way to really connect with those struggling with self-image at the time.
Today, I blog because I know it's imperative that I build a platform that generates income so that I can spend worthwhile time with my family.
It is important to have a profitable niche when you're blogging. Sure any niche can be profitable but why re-invent the wheel? I'm not saying a "dancing ducks" niche can't be profitable, but what I am saying is if you're passionate about a profitable niche that already exists, start investing your time within that niche.
Find your Niche.
Your niche explains to the world EXACTLY who and what you serve. It's the topic of your blog and it tells your audience the content they should expect on your blog.
The problem with most niches is that they can sometimes be too vague. So sure your niche can be about dogs, but does that help you stand out from all the other blogs?
Be sure to do your research on profitable niches. You need a niche that people will actually search for information on.
A few examples of profitable niches are:
o   Travel blogging
o   Frugal living
o   Stay at home moms
o   Lifestyle blogging
o   Fashion blogging
o   Beauty blogging
o   Techy gear
and so many more. Yes, these niches can be overly populated however we know two things about these niches.
  They are highly searched making it a profitable niche

  You can personalize your profitable niche
Personalizing your niche is key to building great rapport with your potential audience/ customers. Think about the billion and one reality TV shows shown on television. It's a highly saturated market but people watch different shows for different reasons even though they all have the exploitive underlying tone.
How will you personalize your niche?
Maybe you don't just write about all the amazing place you've travelled to but instead, you write about places you go to where you spend under 1000 bucks and how to make the best of that experience. Do you see the personalization in this?
If you feel like your niche isn't as profitable as you thought it would be, no worries. Just rebrand!
McDonalds and iHop do it all the time!
How to Start Your Website and Theme on WordPress via Bluehost
In order to set up your WordPress (or any other type of websites), you're going to need two things:
A domain name (a web address like achievherperfection.com)

Hosting (a service that connects your site to the internet like Bluehost)
The wordpress platform is free itself but a domain names will run you roughly $15/year. However for a limited time you can get a free domain when you sign up for a years worth of bluehost hosting with my link.
If you don't find the right domain name now and you want to hold off on securing a name until later, no worries, that's just one less donut and latte in the morning you'll have to sacrifice to pay for a domain at a later date!
Without web hosting, your blog can't be seen online. Without a domain name, your blog won't have an address. The two are inseparable.
When you get a domain name, you'll also get a personal email account(s): [email protected] – way more professional than a generic Gmail or Yahoo address.
You can get started now to start creating your blog. 
They are really good about website transfers as well if you are finally making the decision to switch to web hosting if you feel that blogger.com and wix.com are platforms you want to start out with. 
Once you click the link above you'll need to do the following:
Select a Plan that best suits your needs.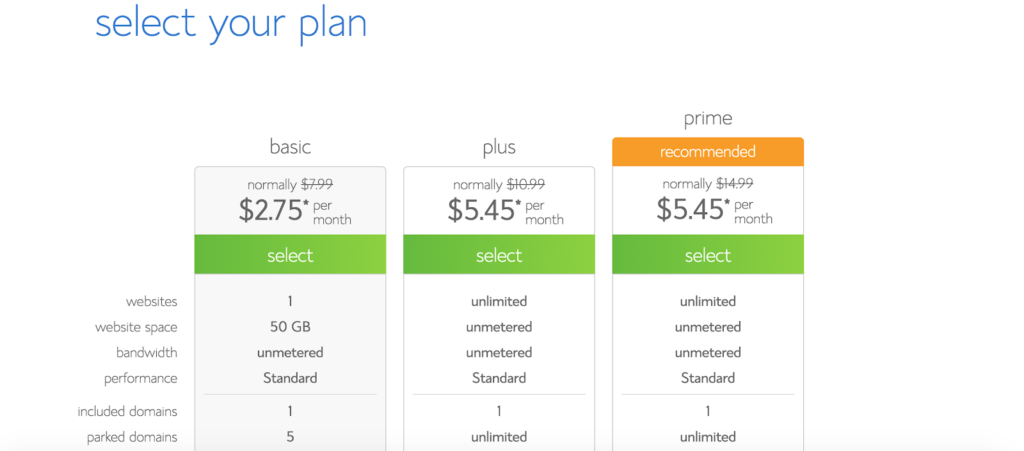 If you've already got a domain name, just enter it in and click "Next" on the "I have a domain name" form or choose it later.

Note: The basic plan may not be this price for long as it is a new year special. It was 2.75 and now has increased to $2.95 which is only $35.40 for a year…for now… until it increases again

To create your account, just enter in your personal information on the "create your account" page and verify your package.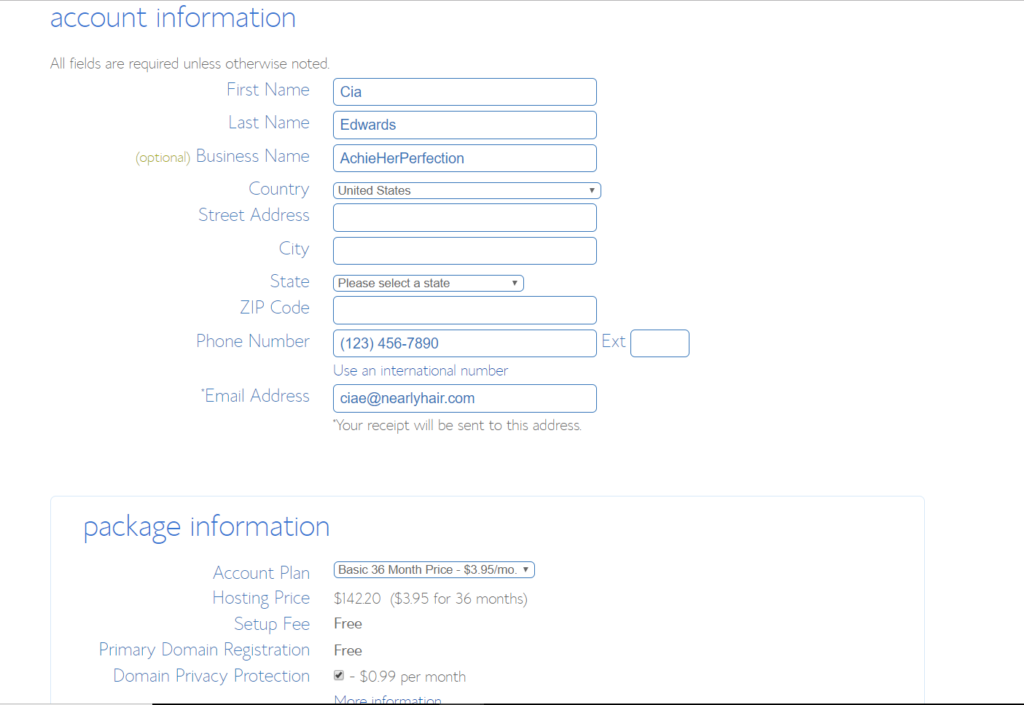 Create your password on the next page and you'll be all set.
CUSTOMIZATIONS & INSTALL
There are two possible ways to install WordPress, one MUCH easier than the other.
TO CREATE A WEBSITE WITH WORDPRESS (OR JOOMLA & DRUPAL), USE ONE CLICK INSTALLATION:
Almost every reliable and well-established hosting company has integrated 1-click-installation for WordPress, which makes getting going a snap.
If you signed up with bluehost or any other similar hosting company, you should find your "1-click-installation" in your account control panel.
Here are the steps you should follow (should be similar/same on all the major web hosting companies):
  Log in to your hosting account.

  Go to your control panel.

  Look for the "WordPress" or "Website" icon.

  Choose the domain where you want to install your website.

  Click the "Install Now" button and you will get access to your new WordPress website.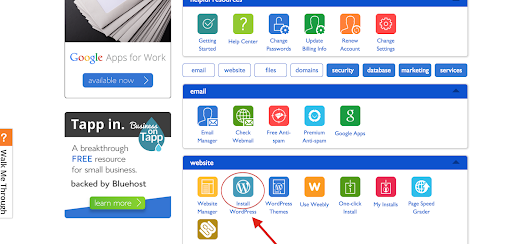 Choose the "do it yourself" version and click the "Install" button.

Use your third click on the "Check Domain" button.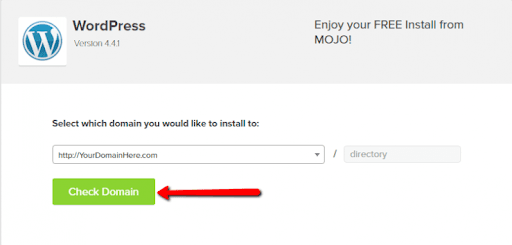 Your last two clicks will be for acknowledging their terms of service and finalizing your install.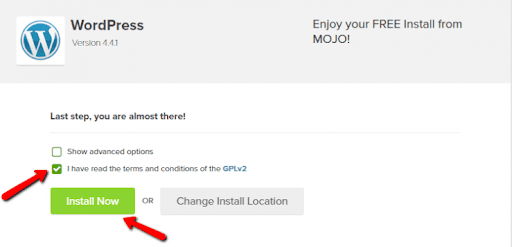 Within a minute, you'll have a fully functional WordPress blog up and running.
You should now be able to design your wordpress with customizable themes or the free themes they offer!
This is what the dashboard looks like: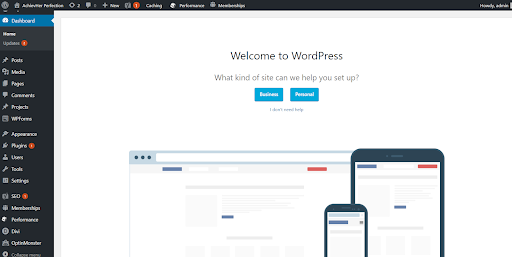 And here is the option for themes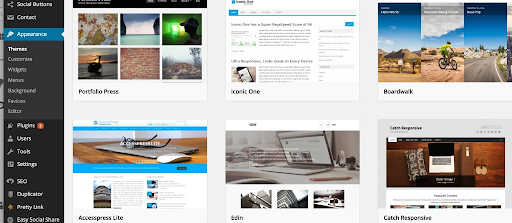 How to Find Solidify Your Brand
Like I tell my clients, your brand is so much more than a cute layout and color scheme.
Your brand is what people say about your business when you're not in the room. Or in this instance, your brand is how people reference your blog or website when speaking to a friend.
So how do you solidify your brand?
Lock in a few key phrases on how your blog should make people feel once they digest some of your content. The use of adjectives or phrases may help.
For example, do they feel liberated and free? Do they feel inspired? Do they walk away with a new skill?
What feelings will your blog brand evoke for individuals?
Once you establish the meaning behind your brand then you can move on to your logo, tagline etc. Then to solidify your brand show up EVERYWHERE (Pinterest, email, facebook etc) with the same energy and same emotion behind your brand.
I like to use tools that make showing up easy. Sure you can take two hours out of your day to post on pinterest, instagram, facebook, and all the other social maedia outlets….But why not cut that time in half?
I like using tools like Tailwind or co-schedule. Tailwind has become my favorite because its strongest suit is promoting on Pinterest. Most people overlook pinterest but truth be told Pinterest is an amazing search engine/social media platform that offers free marketing. Why not take advantage of a tool like Tailwind that allows you to dominate the Pinterest world! You can even try a month free of Tailwind or get your first 100 pins free. Still a little concerned about your brand? Check out more information here on how to build your brand without a following. 

Monetize
When you start a blog you want to make sure your blog is monetizable from day 1. Why wait a year or two to start making money moves when you can establish good money making habits fast.
When I started blogging there weren't as many opportunities to make an income from blogging as there are now. The world of blogging has expanded so much meaning there are more possible ventures to make your first buck.
If you are new to blogging the easiest way to earn an income is through affiliate marketing as you grow your loyal audience. You can check out more information on how to make your first 100 bucks as a new blogger in this post.
Though ads are inundated you can still earn an income from some ad networks like google or medianet however you'll be looking at a very small percentage of income.
Other ways you can earn income:
-Sponsored Post
-Ambassadorships
-Affiliate Marketing
-Affliate networks (Join shareasale, an affiliate network, to earn cash on your blog)
-E-services
– E-prodcuts
-Coaching
Once you create your blog be sure to come back here and post in the comment sections below so that I can check out your blog
And now you're blog should be all set!
What kind of blog are you thinking about starting? Let me know in the comments below!
Cia is a fun loving blogging coach and licensed Marriage and Family Therapist. She creates engaging content for those who are in need of relationship help and business guidance.
After graduating with her Master's in science for Marriage and Family Therapy, Felicia later found herself researching ways to truly embrace her creative character. She has recently started writing for various publications and last year, Felicia released her first free E-book, that encapsulates the struggles of overcoming infidelity. When she is not writing or creating short films she is showing inspired individuals how to create captivating businesses with content marketing.