SIGN UP FOR THE FREE TRAINING!

Learn why your Instagram account isn't growing or making sales – and our step-by-step process to grow + monetize in 90 days.
AKA... Natalie Ellis, CEO of BossBabe,
is sharing the exact strategy she used to scale to over 1,800,000+ followers (of their ideal clients) on IG alone.
4 Reasons You're Not Making Money on Instagram + How to Fix It
Limited Spots Available. Get There Early!
Don't miss out, save your seat now!
Ready to find out exactly how to grow your audience on social media with your ideal, paying clients?
In this free training Natalie is going to be sharing the secrets with you of how BossBabe has grown a social media audience of over 1,800,000 targetted followers.
Growing an audience is a foundational block for any business, regardless of stage or size. If you've not yet nailed it, it's time to get your strategy in place and start using social media as a revenue machine for your business without the need for ad spend.
✅ You're fed up with the follower rollercoaster (up and down) and are ready to really scale your audience size;
✅ You're not sure how to attract your ideal clients who are willing to pay you for your products or services;
✅ You want to understand how to create content with ease that converts your audience without the need for paid ads;
✅ You're willing to put in the work to start scaling your audience, you just need a clear strategy to work through.
In this 90 minute training session,
you're going to learn:
How to create a bulletproof content strategy that has your audience eager to pay you. 🚀

You'll see the 3 types of meaningful content that every business owner or brand should be using to grow and convert their audience.


The secrets to showing up consistently with ease. 📆

Never be stuck for content ideas and understand how to create a content plan that actually helps you scale your business.


The entire step by step Blueprint for growing and monetizing an audience on social media.

You'll learn how BossBabe did it for themselves and for countless other clients. They're lifting the lid on their secret strategies.


How to find your own zone of genius and learn the secrets to owning your niche.

If you were confused of your own unique value on social media, you'll not only figure out how to find it, but how to own that space online.
This framework helped us to scale to over 1.8 Million targeted followers and a multi-million dollar company in just a few years...
We made note of every little thing that worked and helped us to make money and gain momentum in our businesses.
This is what we teach.
We compiled it all into our own "strategy" so that we could understand it and keep using it to scale our businesses. We use this strategy to onboard and train our very own BossBabe team... but we wanted to know how to replicate this to help others achieve the same success.
To date, we've helped thousands of others WIN.
We're helping other women work through processes and strategies to get clear on what they're driving towards and exactly how to do it.
What we teach works. It's as simple as that.
Trust me, I understand the feeling of:
Using all the hashtags on every post but never seeming to grow.

Watching my follower count go up and then drop straight back down again.

Spending forever creating great content and then having no one engage with it.

Growing my audience but wondering why they just aren't converting into clients.
We're going to address all of this and help you focus on the good stuff: revenue, impact and happy clients!
I'm going to be getting specific and leaving nothing off the table, so come prepared with a notebook and no distractions!
BossBabe CEO,
Natalie Ellis
Are you working hard, doing all the things, but your Instagram isn't growing – and, more importantly, not making you money?
Or maybe you're wanting to grow your business and make more sales on Instagram – because you know your audience is on Instagram, but you have no clue how to reach them or sell to them?
You're in the right place, friend!
For the first time ever, I'm completely lifting the lid on the unrivaled BossBabe Instagram strategy...
and you're invited.
We've tested our strategy over and over – whether you have 100 followers or 10,000+, it works.
In this 90-minute training session, I'm pretty much gonna blow your mind (😜)... but beyond that, you're going to leave with a step by step strategy for making your next power moves on social media.
If you know that having an audience of ideal clients who are crazy excited to pay you, would completely change your business, you can't afford to miss this training.
Here's the thing — my last training on Instagram filled up before we even went live. You know I'm not the kind to do weird marketing gimmicks so trust me when I tell you that spaces are limited. We've been able to extend the capacity of the room by a few thousand, so I'm pretty confident you're going to be able to get in, but just to be sure please come 5-10 minutes early.
You'll get the most out of it if you come prepared with a notebook, questions and an open mind. I'll be sharing something you've never ever heard before but the exciting part is that you will understand it instantly and can even put it to work just a few hours after the training.
While I'm here - I'd love to share the fact we generally don't pay to grow our Instagram audience, nor have we ever used bots. Yet, we are growing at around 30,000 followers a week organically and almost every one of them is our ideal clients.
It's possible for you.
This isn't rocket science. It's just a case of getting really dialed in on your strategy and taking consistent action steps towards the goal.
See you on there?
XO
Natalie
These Babes Are Crushing It On IG 💃
Hear from people who have applied our training!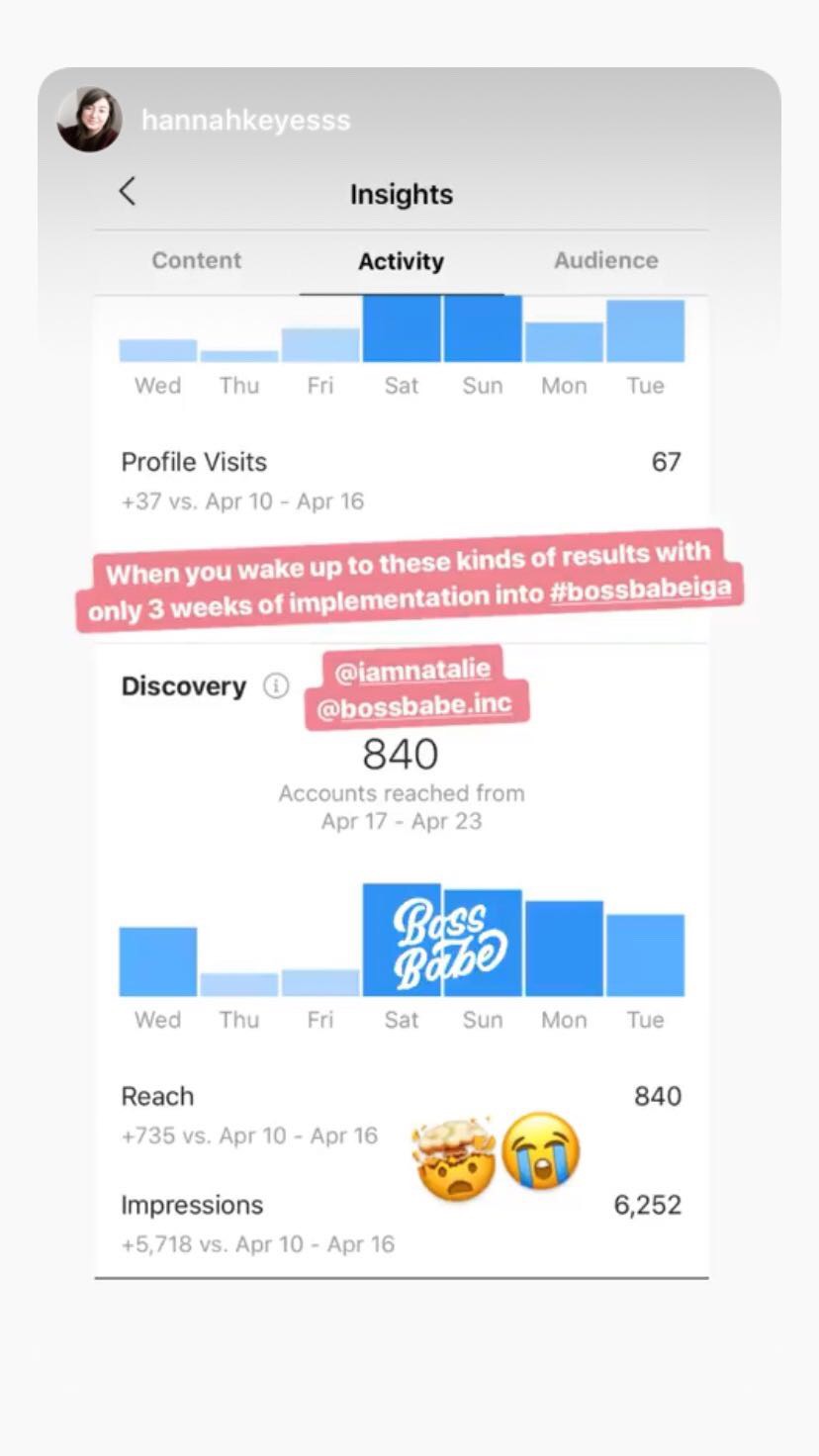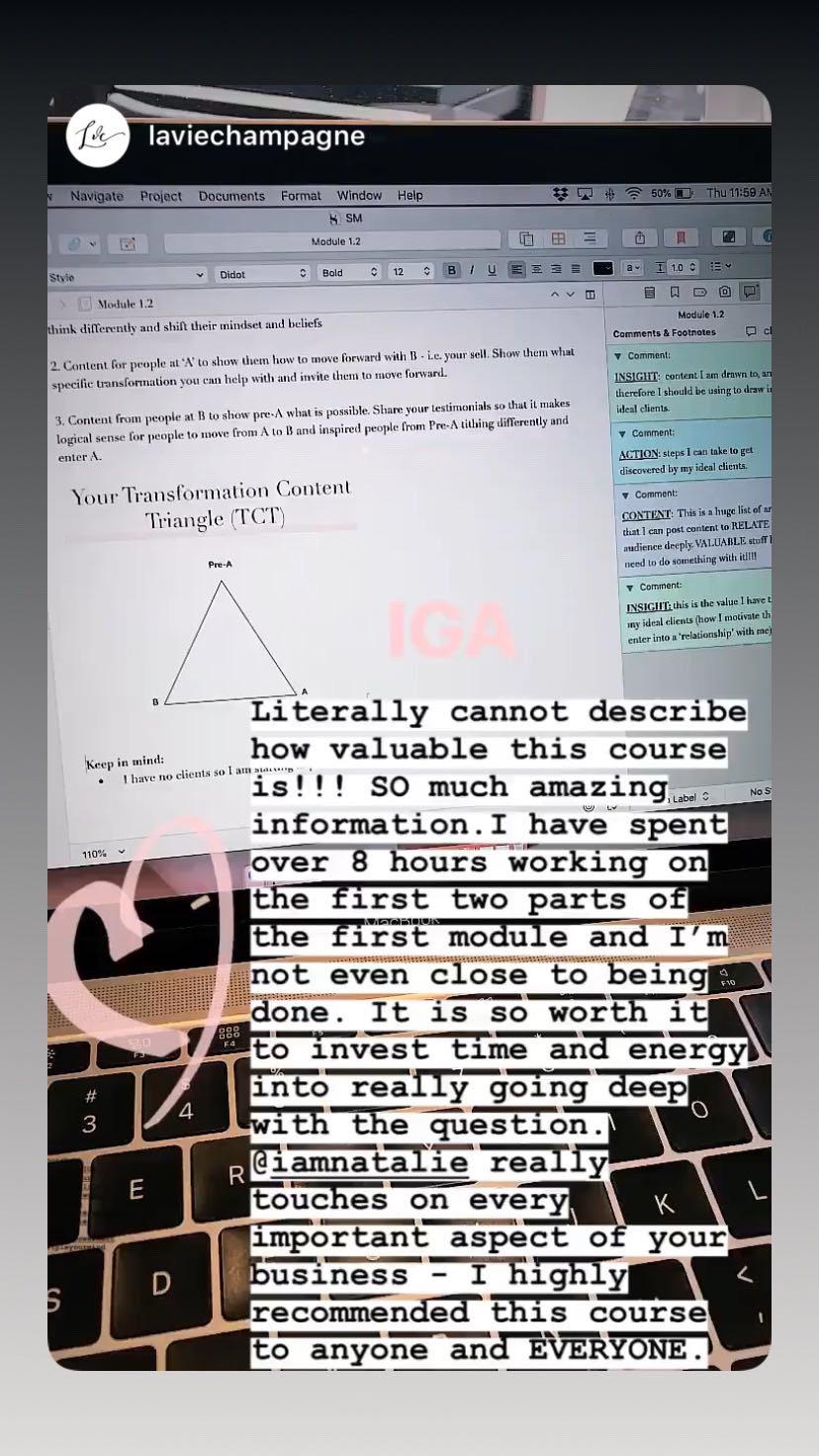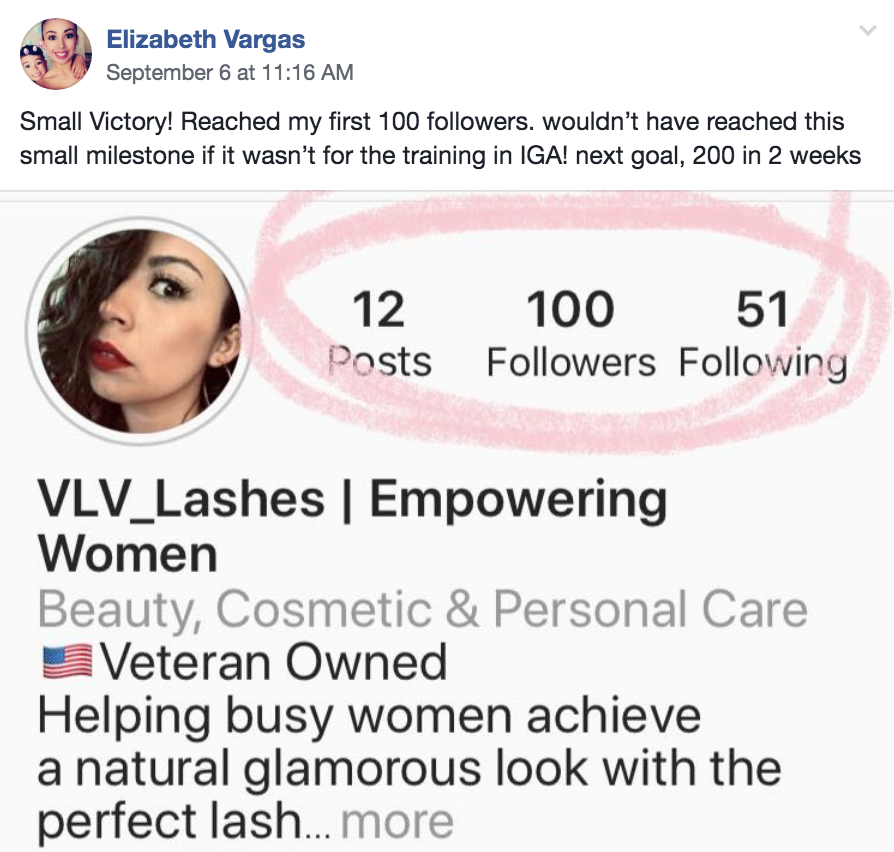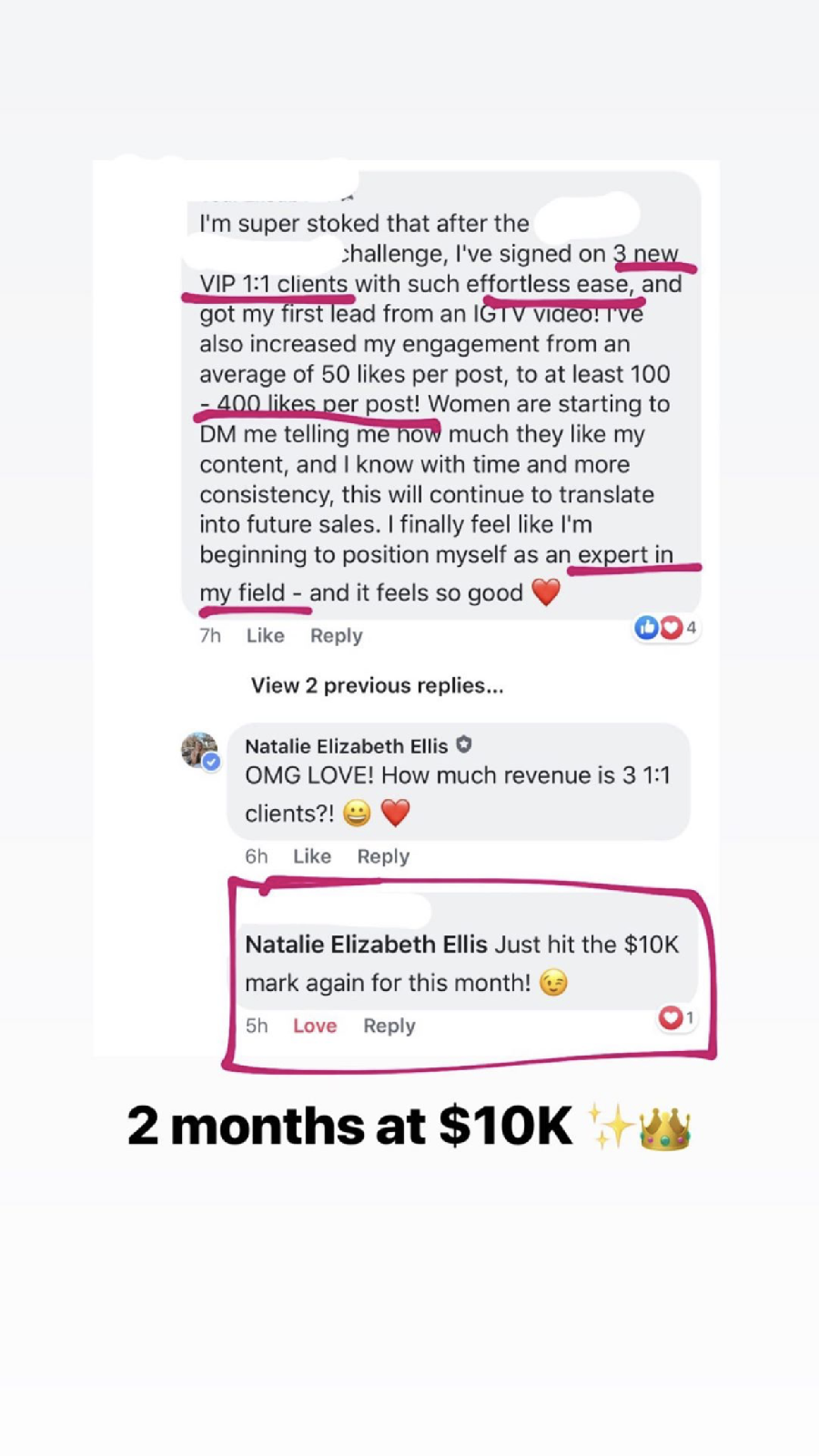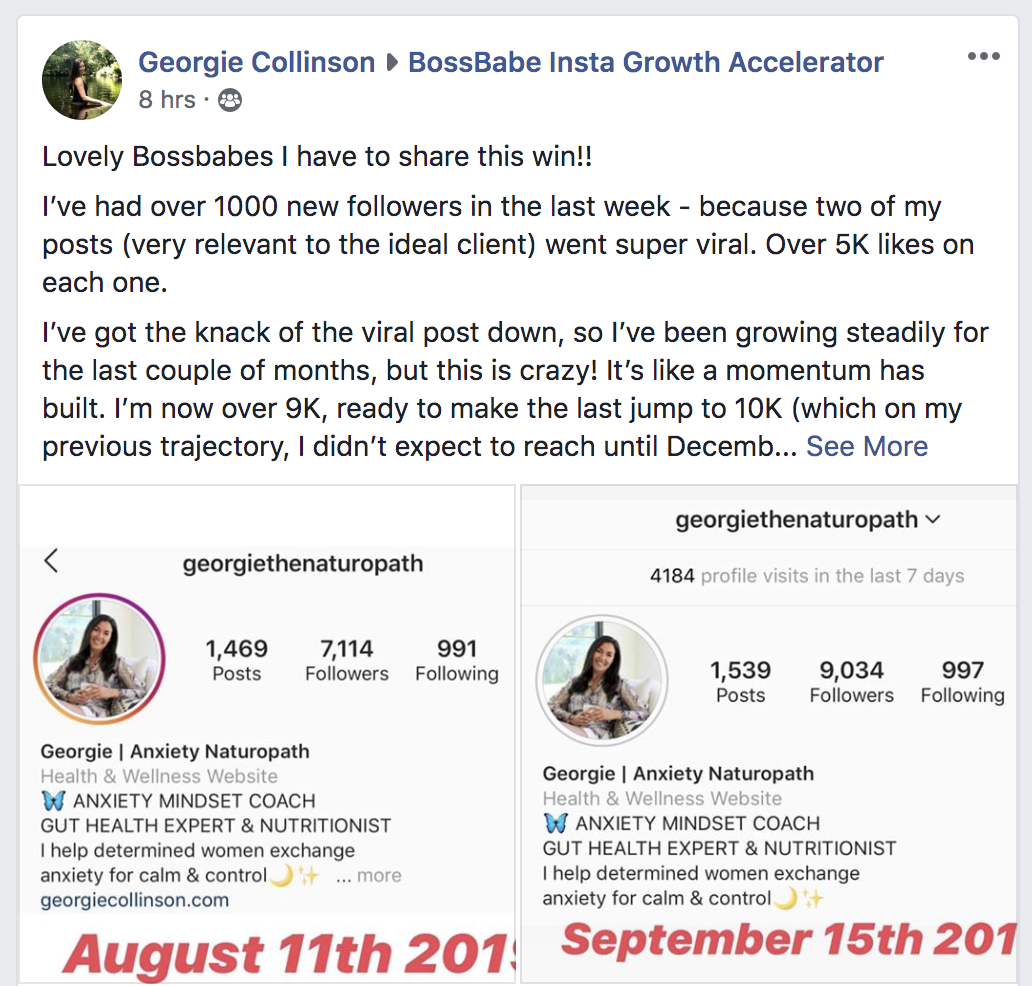 See You In The Training, Lovely :)
Any earnings or income statements or examples shown through our website are only estimates of what might be possible now or in the future. There can be no assurance as to any particular financial outcome based on the use of our website. You agree that I am not responsible for your earnings, the success or failure of your personal or business decisions, the increase or decrease of your finances or income level, or any other result of any kind that you may have as a result of information presented to you through our website. You are solely responsible for your results.
I present testimonials and insights about other people's experiences with my website for purposes of illustration only. The testimonials, examples, and photos used are of actual clients. They are not intended to represent or guarantee that current or future clients will achieve the same or similar results; rather, these testimonials represent what is possible for illustrative purposes only.
This website is in no way sponsored, administered, or associated with Facebook, Inc. or Instagram, Inc.